WHO: Gebert Contemporary, 558 Canyon Road, Santa Fe, NM 87501, 505-992-1100
WHAT: Otis Jones: Recent Paintings
WHERE: Gebert Contemporary, 558 Canyon Road, Santa Fe, NM 87501

WHEN: Reception for the artist: Friday, July 5, 5 to 7pm
Exhibition Date: July 5 through August 12, 2013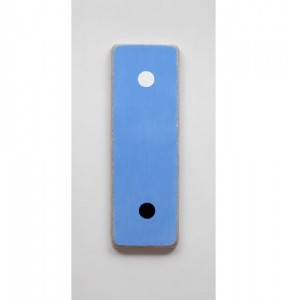 Gebert Contemporary is honored to announce its first exhibition
of the paintings of Otis Jones.  Visitors to the exhibition will be
delighted to see a rich selection of approximately ten paintings.  Jones' embrace of the complex minimalism of abstraction is as exciting as ever.  The viewer is engaged with marks and strokes and stretches of color that are echoed in the actual construction of the works.  Indeed these are paintings, but they are paintings that exude a physicality and force.  Jones has long considered his paintings to be objects, and this is obvious.  These pictures rise up from the wall with their canvases stretched tightly around prominent wooden supports, and the heavy staples sprinkled around the edges seem barely able to contain the fabric.  Jones continues his exploration of black and white and the occasional use of color.  This exhibition represents the enthusiastic re-emergence of Jones on the Santa Fe art scene.
Otis Jones was born in Texas in 1946.  He has exhibited in galleries and museums for over forty years.  The paintings of Otis Jones are included in the collections of the Dallas Museum of Art, MIT's List Visual Arts Center in Cambridge, Massachusetts, the Springfield Art Museum in Springfield, Missouri, and the Tyler Museum of Art in Tyler, Texas.  His work may also be found in distinguished private and corporate collections.
For further information, please contact Jane Egan at 505.992.1100. Thank you!